perlawanan Bola Sepak antara Real Madrid vs Barcelona semalam berlangsung sedikit tegang.
apabila Mesut Ozil tiba2 naik angin..Anda tahu kenapa?
ini adalah kenyataan dari penyerang Real Madrid,Mesut Ozil
"According to
[
Football.Fr
] Real Madrid
Mesut Ozil was quoted,
"I did this because I was defending my religion because
David Villa
insulted Islam
." refering to his actions against Villa
at the closing minutes brawl at the Super Cup.
It appeared in TV video clips that David Villa hit Mesut Ozil first
and the German international retaliated.
The brawl was the reaction when Cesc Fabregas was tackled helplessly
by Marcelo right at the closing minutes of the game
But Villa making offensive comments towards Islam isn't likely
since his teammates Abidal, Keita and Afellay who are muslims
and they play on the same team Barcelona.
Mesut Ozil and David Villa were slapped with red cards
in an altercation between the two during the closing stages
of last night's Spanish Supercup between Barcelona and Real Madrid.
Barcelona went on to win the Spanish Super Cup 3-2
riding the heroics of Lionel Messi two goals.
Villa and Ozil action is subject to either one-game
or three-game ban from Supercopa.
The league will serve any suspensions handed most likely a year from now.
If Villa made such unnecessary comment,
it is unfortunate for the sports in general like football/soccer
which is enjoyed by people worldwide regardless of race or religion."
niler si celake David Villa: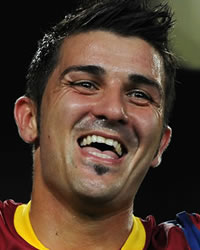 ni ler video prblhan time prlwnan smalam...
p/s: dah boleh boikot barcelona...

.